Student Profile: Caitlin Havens
Hi Caitlin! Thanks for agreeing to chat with us today. Can we start with why you decided to go to Willis College?
Caitlin:
I decided to go to Willis College because I've been a stay-at-home mom for a while, or as my son puts it, a play-at-home mom, and it was time to get back out there.  I started applying for positions I was really interested in and would get interviews from time to time but they would often tell me that they were going in a different direction. The interviews usually went really well, and I got some great feedback but I got the impression they were going in a younger, just-out-of-school direction. So, I decided it was time to go back to school. I spoke to a good friend, and she recommended Willis College. I looked into the programs and I really liked it.
Great! And why did you decide to take the Medical Office Administrator with Ward Clerk Specialist program?
Caitlin:
I love that Willis College has such flexibility in the delivery of their programs. Being over 50, I love that the program, although intense, is less than a year. Once I complete the program, I can hit the ground running and work full-time and part-time when I retire if I want. This particular program has such a variety in the type of job you can get once you graduate! You can work in a hospital, an imaging center, a physiotherapy office, a dentist's office, a specialist's office, doing transcription. You have a lot of choice concerning where you might find employment. You can also choose whether you want to work full-time or part-time, regular days, or shifts in a hospital setting. The possibilities are endless! I just loved the whole idea of the role. I miss being the 'go to' person in the office, anticipating the needs of my team and trying to make their day a little easier, a little lighter.
What was it about online learning that appealed to you?
Caitlin:
I love the idea of online learning. My husband and I have a young son and older parents, so we wanted that flexibility. It was perfect for my situation. The fact that we have a lecture and then we manage our time concerning assignments from there, at our own pace, is great! It's a very fast-paced program, but I like the idea that we can work around our own schedules. That meant a lot to me. I'm hoping to work in our local hospital. I have a friend who has said that they can connect me with somebody they know there, and I'm really hoping that's where I'll land.
And I see here that you started your program in October. What was it about this particular October that made you think now was the time?
Caitlin:
Honestly, it wasn't the month in particular. What I liked was that once I decided to go to school, I could start very quickly. I was thrilled when I heard that Willis had regular intakes. I'm not the most patient person, so once I make up my mind to do something I like to be able to just get started. I know a lot of schools have one or two intakes a year, so I had prepared myself for that. With Willis, I was able to start almost right away, and that really appealed to me.
And what was your favourite part about the Medical Office Administrator with Ward Clerk Specialist program?
Caitlin:
I have always loved medical terminology. The terms are like mini puzzles to me. Anatomy and Physiology was a pretty cool course as well. I had the opportunity to build something fun in that class. Of course, I can't say what it was but I really loved that part. Those two courses are just something that's right up my alley, so I love those two.
Your first interaction with Willis College would have been with the Admissions and Finance teams. Can you describe those processes?
Caitlin:
Once admissions contacted me and I decided to move forward, everything moved fairly quickly and smoothly. My admissions officer sent me all the paperwork I needed and just asked that I fill it out and sign it as soon as possible. I was anxious to get started so I read everything, filled it out, signed it and got it back to him right away so I didn't miss my projected start date! I was so excited to get going! From there, everything moved forward just like clockwork.
There's a fair bit of paperwork at the beginning but I wouldn't want that to scare anyone off. It just lays out all the expectations… what Willis College expects from you as a student, what you can expect from them in return, some forms you need to fill out because they can't guess your information. Signing the documents is quick and easy. The finance officer contacted me fairly quickly after that, and we set up a payment schedule. It was fairly easy as well. I spoke to both of them over the phone briefly, but email was the easiest way to take care of all the business part of the process, and they were very friendly, accommodating, and then I was off and running to school. It was great!
What kinds of opportunities are available to MOA graduates?
Caitlin:
In the hospitals, you could be working as a ward clerk inpatient or outpatient clinics. You could be working in doctor's offices, imaging offices, long-term care centers, for a number of different specialists, admitting. There are so many opportunities. And we've been talking a lot in class, actually, that you could start in reception and work your way up and actually end up in management at some point. Every course we're taking is so key, particularly Healthcare Medical Terminology, Anatomy and Physiology and now we're taking Pharmacology.
So, as long as you're putting in the effort and you like working with people, in this case, patients, any one of these positions would likely be a possibility for you after graduation.
Do you have any advice for someone considering the MOA program?
Caitlin:
Just go for it. Invest in yourself. It's so worth it to take that time. It's 11 months out of your life. Coming from a house of lifelong learners, my Dad always said, "You're going to be (in this case) 11 months older anyway, so you may as well be that age and invest in yourself and have that certificate in your hand." If you're prepared to work hard and contribute during online classes so that both you and your fellow classmates gain that much more and have a better school experience, then this course is for you. Contact Willis College and find out more about the program. The only regret you'll have is not doing it sooner!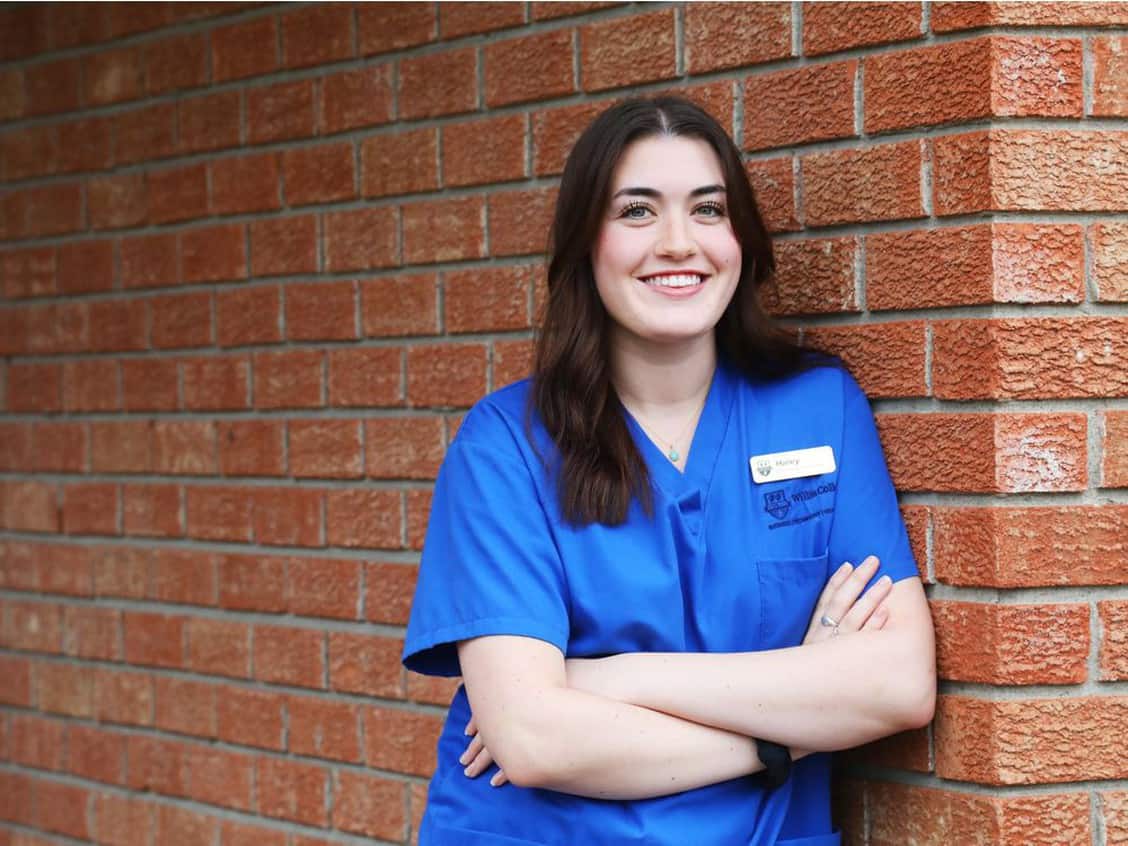 Our PSW 300 Program is in The News!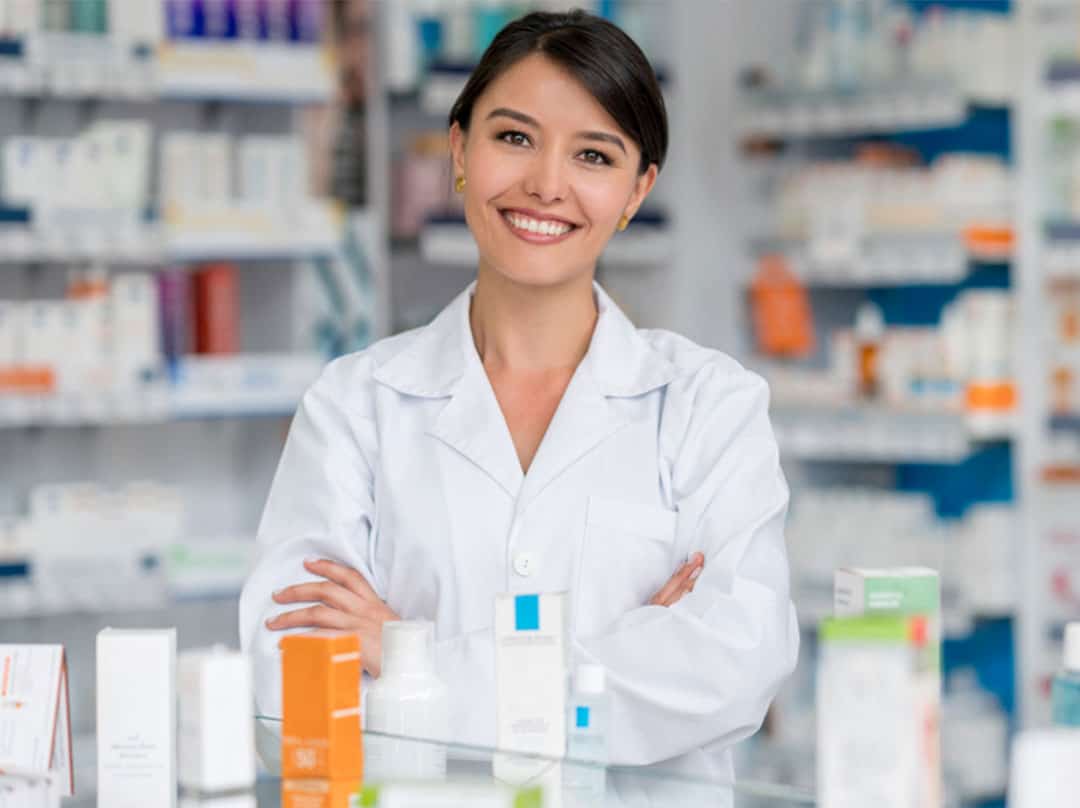 New $1,000 Willis College Pharmacy Assistant Scholarship Available
What Our Graduates Are Saying
I chose this program because I have always wanted to work in an office setting and eventually get into the government. I would recommend anyone to Willis College any day.
Victoria Woolsey
Administrative Assistant Program