With more than 20 years experience in the Pharmacy field, Bonnie Gardner is a great resource to learn if a career in Pharmacy is right for you!
Bonnie Gardner is now the campus director for the Willis College Online Campus, but she has more than twenty years of experience in pharmacy under her belt as well. She has worked in three countries and in all areas of pharmacy; community, institutional, hospital, and specialization into software training. She has also worked as a pharmacy assistant and a pharmacy technician educator (she even played a significant role in the regulation of pharmacy technicians!).
While she is now retired from the world of pharmacy and no longer works in the pharmacy setting, it's still very close to her heart. We sat down with Bonnie to chat about the field and pick her brain on why this may be a great career for you, and why our pharmacy assistant program may be the best way to get you there!
Q: First off Bonnie, what is a pharmacy assistant?
Bonnie Gardner: A pharmacy assistant is a crucial member of the pharmacy team. The pharmacy assistant is the central person who is able to ensure customer service needs are met, prescriptions are filled and patients are provided with their pharmacy needs. Pharmacy assistants receive prescriptions, fill, label and complete the prescription process, do all the stock control, compound prescriptions and address patients insurance, refill and delivery needs. Pharmacy assistants fill compliance packaging for patients to remember to take their daily medications. At a very basic level they provide the mechanism for the pharmacy business to run smoothly, and safely.
 Q: Why should someone choose a career as a pharmacy assistant?
BG: A pharmacy assistant is someone who is passionate about helping people, loves to learn and wants to work in healthcare (but without all the unpleasant smells and body fluids!). A pharmacy assistant should be very detail oriented, like helping people and is a real "go to" person. Pharmacy assistants can work full time, part time, great for  families where one parent can only work evenings or weekends. 
Q: What is the demand currently for pharmacy assistants?
BG: The demand for Pharmacy Assistants is very high. If you look on Indeed right now under 'pharmacy assistant' you will find a large number of open positions. Healthcare, and in particular the world of pharmacy, is rapidly changing and the need for good, educated, pharmacy assistants is high. Any pharmacy will tell you that without a good  pharmacy assistant they just can't function properly. The roles of the pharmacist and the pharmacy technician have changed and this makes the role of the pharmacy assistant even more important. When your pharmacist is doing patient consultations, or injections, and the pharmacy technician is checking prescriptions, it's the pharmacy assistant that is needed to ensure customer service needs are met. 
Q: How does a pharmacy assistant differ from a pharmacy technician?
BG: These days the roles are defined very differently. Pharmacy technicians are now regulated and the division of professional regulation has also changed. Pharmacy technicians have the ability to check prescriptions for correctness, take verbal orders from doctors, complete parenteral admixture preparations under aseptic technique. Pharmacy assistants are therefore needed to do the work previously done by the non regulated pharmacy technician. They receive prescriptions from patients, fill prescriptions using specialized software, address patients concerns regarding insurance, handle refills, and delivery. Assistants also communicate with the technician and the pharmacist about patient needs and ensure the smooth running of the pharmacy day to day business. 
Q: What are the career opportunities for pharmacy assistants?
BG: Pharmacy assistants can choose to specialize into several different fields. Insurance companies want qualified pharmacy assistants to help with their insurance claims and pharmacy questions. Compounding pharmacies need  pharmacy assistants who can be involved in the compounding of specialized pharmaceutical preparations. Long term care pharmacies, specializing in compliance packaging for long term care facilities, want qualified pharmacy assistants to help run their machines, take orders and organize the workflow. In some provinces pharmacy assistants can work in hospitals, doing unit dose and drug preparation. Pharmacy assistants can also work for drug distribution companies, organizing orders and paperwork for pharmacy purchasing needs. Then there are the pharmacy software companies who train the staff in a pharmacy how to use the software to fill prescriptions, order stock, and communicate with insurance companies. Pharmacy assistants could be the trainers and train staff all over the country within a business on the specialized software.
Q: What kind of advice do you have for someone who is thinking about going into this career
BG Being a pharmacy assistant is so rewarding, if you want to help people, be a crucial part of a healthcare team, learn and grow with a  business, this is a field for you. But it starts with school. Most employers now want pharmacy assistants who have been to school and have a good understanding of drug names, prescription filling  processes, pharmacy law and communication. Pharmacy assistants are used by all major companies – Shoppers Drug Mart, Rexall, London Drugs, Safeway, Loblaws, it's a huge market. The key skills I think a good pharmacy assistant needs are  detail oriented, good communicator, positive attitude, and a school certification program that clearly meets the needs of the pharmacy assistant role.
Here's a fun fact: every drug on the market has three names. Pharmacy assistants need to know at least two of these. That's a lot of drug names!
I think being a qualified Pharmacy Assistant will always ensure you are employed.  The world of healthcare is ever changing but we will all always need pharmaceuticals. 
In only 32 weeks, you can be job-ready as a pharmacy assistant!
What are you waiting for? In only a few short months you can be a qualified pharmacy assistant. ready to tackle a new job. a new career, and a whole new life! Check out the pharmacy assistant program page for information on program requirements and to get started on your new career today.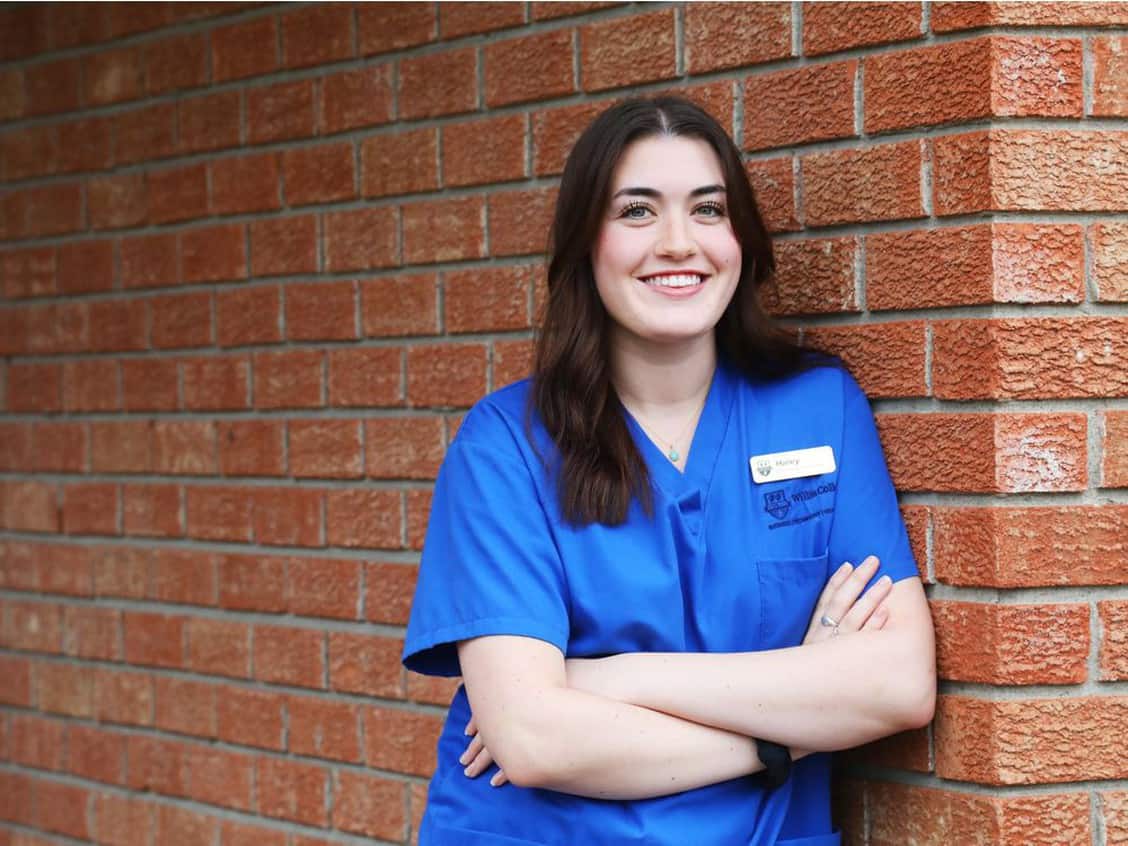 Our PSW 300 Program is in The News!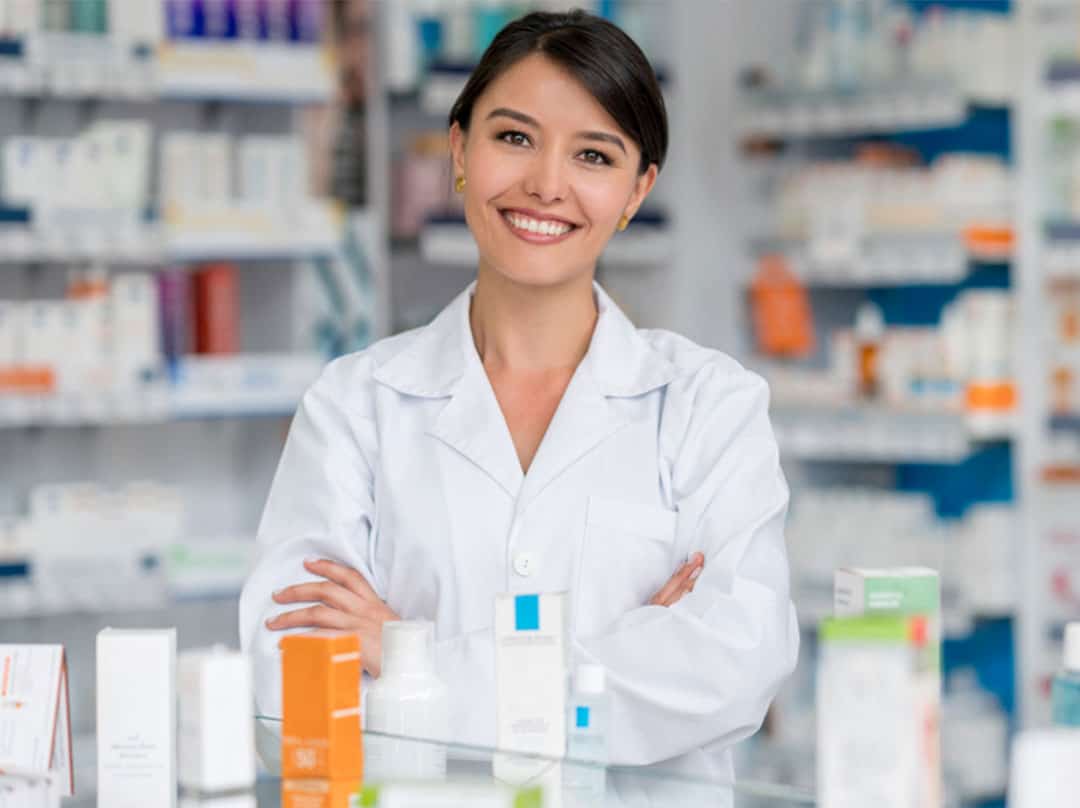 New $1,000 Willis College Pharmacy Assistant Scholarship Available
What Our Graduates Are Saying
I chose this program because I have always wanted to work in an office setting and eventually get into the government. I would recommend anyone to Willis College any day.
Victoria Woolsey
Administrative Assistant Program