Massage Addict Chat with Caroline Kolompar
Willis College is thrilled to be launching a new program in Massage Therapy! Starting THIS FALL, students will be able to attend classes at our Ottawa campus to earn their diploma in the exciting and in-demand field of Massage Therapy. 
To launch this program, we've partnered with Massage Addict, a well-known (and well-loved!) chain of multi-disciplinary clinics across Canada, (110 clinics to be exact!) offering massage therapy, chiropractic care, custom orthotics, reflexology, and acupuncture treatments. Approximately 1600 registered massage therapists, chiropractors, reflexologists, and acupuncturists, practice in Massage Addict clinics across the country helping on average70,000 people a month with pain management, stress and anxiety! 
We had the opportunity to chat with Massage Addict President Caroline Kolompar to talk about what Massage Addict is all about, why they're a great potential employer for our graduates, and just why you should be interested in becoming a massage therapist with Willis College!
Hi Caroline! Thank you so much for being here with us today. Can you start us off by telling us a bit about yourself?
Sure! My name is Caroline Kolompar, and I'm the president of Massage Addict. I've been the president for the last three years, but I've been at the company in a variety of different positions for the last eight.
What makes me passionate every day about working at Massage Addict and in particular being the president, is the group of individuals that I get to work with. We have a fantastic, incredibly talented, and very, very passionate group of head office employees, as well as an amazing group of franchise partners who are responsible for 110 clinics across the country. 
That's incredible. That's a lot of people and a TON of clients who are using Massage Addict. Can you tell us a bit about the company?
Massage Addict began in 2008 in Dartmouth, Nova Scotia. That's where our very first clinic was. And at that time, again, in 2008, it was a massage-only based clinic. It was very, very focused on membership, and that ensured that clients could come back on a month-on-month basis to help with their symptoms and conditions.  
As we've evolved through the years, we've really become more of a membership-based health and wellness brand. Today we have 110 clinics across the country. We have over 1600 total practitioners that work with us including massage therapists, acupuncturists, reflexologists, and doctors of chiropractic care. So, it's evolved from a single-service massage therapy clinic to a health and wellness organization with four different disciplines so that our clients have options as it relates to the care for their symptoms and their conditions.
Membership-based sounds different and kind of unique. Can you tell us about that a bit?
Of course! Membership at Massage Addict is actually an incredibly simple concept. A client agrees to visit the clinic once a month for a period of either six months or 12 months, depending on their therapeutic needs. If that client has an enhanced benefits plan that covers massage therapy, acupuncture, reflexology, or chiropractic care, the clinic will direct bill the benefit plan from the clinic. So, the out-of-pocket expense for the client is solely the difference between what their insurance would cover, and the cost of the monthly treatment. 
The wonderful thing about Massage Addict, and I think it's why many people choose to become a member of Massage Addict, is that as a member, it's your choice what therapeutic treatment you would like to receive on a monthly basis. So, you can either receive a massage, chiropractic care, acupuncture, or reflexology as your monthly treatment. Membership also gives you preferred pricing, so you're able to stretch your benefits longer. And this is a really very strong benefit for clients who specifically need monthly treatments in order to manage their pain, stress, and/or anxiety.
Do you offer one-off massages and treatments as well or just the membership model?
Definitely. We still have clients who visit less frequently than once per month. However. as a value proposition for the client, the membership is great. But it's also great for our registered massage therapists, acupuncturists, reflexologists, and doctors of chiropractic care because they really have a predictable revenue stream as independent contractors because they can guarantee a certain percentage of people always coming back. In addition, they get to see their clients improved health with routine visits and adherence to their treatment plans. So, it's a very strong value prop for clients, but also therapists. 
It's also probably great for clients to get a really robust treatment experience. 
Absolutely. There's a lot of collaboration within the Massage Addict clinic environment between the different professionals. Actually, not only collaboration but referral. So, chiropractors will often understand that there's a particular symptom, for instance, anxiety or stress for which their treatment style is not appropriate, and they'll refer over to a massage therapist. Or a massage therapist may note, for instance, that the client is coming in for a symptom or a condition that is actually better treated by a doctor of chiropractic and refer over as well.
Tell us about how you go above and beyond to help massage therapy students. I mean, we already know all about it but it's definitely worth talking about here because it's awesome!
So, our support for massage therapy students is vast. From a financial perspective, we have scholarship programs that are available for each college that's offering a massage therapy program, including the $2000 Excellence in Massage Therapy scholarship for an outstanding Willis College massage therapy student who has completed their first year. We also offer the ability for the massage therapist or the student therapist to work within our clinic as a member of our front desk team. And what that helps them do is: a) they obviously have a job throughout their schooling, but b), they begin to understand the workings of a clinic. So not only is it helping them as a student from a financial perspective, but also as a student from being able to speak to clients, being able to speak to therapists, being able to understand the role of a therapist within a clinic.
And on top of that, we do provide conditional employment offers for massage therapy students, where upon graduation, they're immediately offered a full-time role at Massage Addict. As part of that conditional offer, we provide free online courses for both OSCE and MCQ Prep.  We are partnered with an organization called Dexterity Professional Development that provides online prep for both the OSCE and the MCQ, which can help augment the preparation that Willis College will do for the student as well. 
We're incredibly excited to be partnering with Massage Addict right now. Can you help tell everyone 'out there' what that is all about?
We're incredibly excited to be participating in a partnership with Willis College for a number of reasons. Number one, Willis College has been around for a very long time and as you look at the variety of different programs, whether it's IT, business, or healthcare, there's an incredible commitment to the student community.
The massage therapy course was designed by a team that is incredibly versed in massage therapy. And Willis College has really, really put a focus on ensuring that there is an adult learning environment. A lot of the students that are entering Willis College are in their second career. And the college is really thinking about how to ensure those students successfully go through a massage therapy program so that they can actually begin to practice. The program right now is, from all accounts, very forward-thinking as they're looking at implementing a couple of different learning platforms that will allow for an accelerated track and a regular track. 
And most importantly, I would say that Willis College's focus on smaller class sizes will ensure that massage therapy students have a lot of one-on-one time with instructors, not just in the classroom, but also in the practical classes and the student clinics.
I think the college itself, Willis College, is an incredible organization with a lot of history. And I think the learning and the work that they've done with regards to the Massage Therapy program really will put it in a class of its own. And we're incredibly excited that the program is launching and we're very, very thankful to be part of a team with a partnership that we think will only continue to grow.
Why is this such a good time to become a massage therapist?
When I think about the demand for massage therapists, I think about the opportunity that someone has to have a career in massage therapy, and it's an incredible time to join the profession. What we've seen throughout a number of years, and actually I'll take you back 30 years because it really started 30 years ago, is that Canadians have begun to really understand the impact that massage therapy can have on their lives, whether it be for an acute issue, a pain, a strain, relief from stress and anxiety, or whether it can be to help with symptoms presented in conditions like arthritis.
And we've seen the usage of massage therapy really increase over the last 30 years. And in particular, over the last five to 10 years. Massage therapy used to be considered an alternative therapy but today it's really an important part of the healthcare ecosystem. 
What are the qualities that you think make a really good massage therapist?
So, when I think about the qualities of a successful massage therapist, there are three that come to mind.
The first is a positive attitude and dependability. It's really important as a therapist and the frontline for clients who are experiencing often significant amounts of pain, stress, and anxiety, that their therapist is positive and that they can depend on them to be there on time for the appointments that they've set.
The second is really a passion for the field of massage therapy, and in particular for helping others. At Massage Addict, we do a lot of surveys and ask registered massage therapists why they decided to be a therapist. And crossing all demographics, the number one reason is always to help others. And I think that that filter is incredibly important. If you are thinking about a career in massage therapy, one of the top reasons should be that you want to help others and you want to help others build and have better lives 
And lastly, is a client-centric frame of mind. As a massage therapist, your role is really to help with a positive patient outcome. And that patient outcome is largely due to the client visiting you on an ongoing basis, number one. And number two, the massage therapist really clearly articulates a treatment plan that the client can follow.
Massage Addict seems like a great place to work. And you're hiring all the time is that right? 
ALWAYS!  I was recently asked if I could hire a number of massage therapists what that number would be? And I think in order to answer that, I want to give you a little context about Massage Addict. We are the largest membership-based massage therapy wellness organization in Canada. We have over 1600 therapists that work across those clinics. And if I could double that number, I would!
We have a constant need. We see 70,000 clients on an average basis. In the fourth quarter, October, November, and December, we'll see upwards of 80,000 to 85,000 clients. And we turn away a number of clients on a daily basis because we don't have available appointments. And those clients are coming to see us for pain, stress, and anxiety. 84% of our clients visit for clinical reasons. So, it's not a want, it's a need.
If you are thinking about a career in massage therapy, and you're thinking about whether or not you will be employable when you graduate, the answer is 100% yes. And come and see me anytime!
Are you interested in becoming a Massage Therapist?
If you want a career where you make a difference in the lives of the people around you, this is a fantastic place to start. Massage Therapists are serious healthcare providers who enable people to move on from injury, maintain active lifestyles, and take time for relaxation and self-care.
If this seems like a career for you, we would love to chat with you further about the incredible opportunities that Willis College can provide you. CLICK HERE to get started!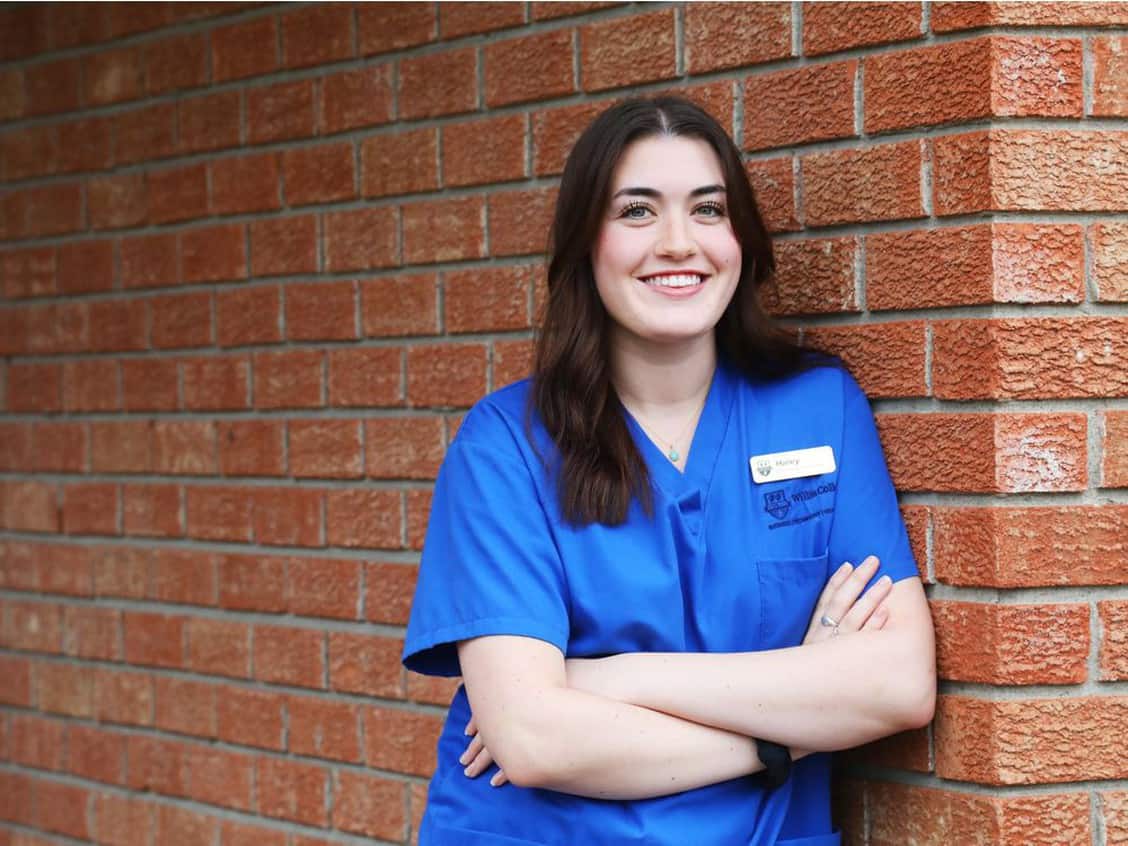 Our PSW 300 Program is in The News!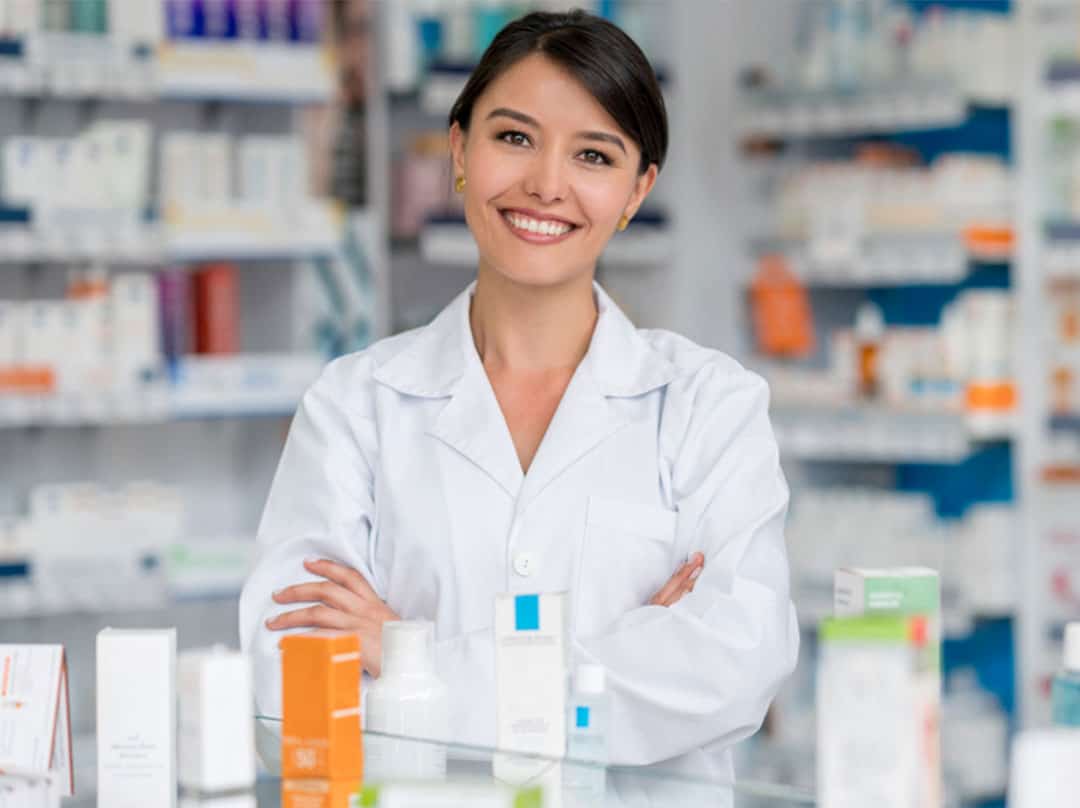 New $1,000 Willis College Pharmacy Assistant Scholarship Available
What Our Graduates Are Saying
Online schooling was helpful in working around my schedule. It allowed me to gain the education I needed from the comfort of my own home. Despite online classes, you receive a quick response when help is needed.
Daphne Phillips
Addictions & Community Services Worker Program